Distribution Transformer Laboratory
ERDA has state of the art distribution transformer laboratory to take up evaluation and certification of distribution transformer and its components.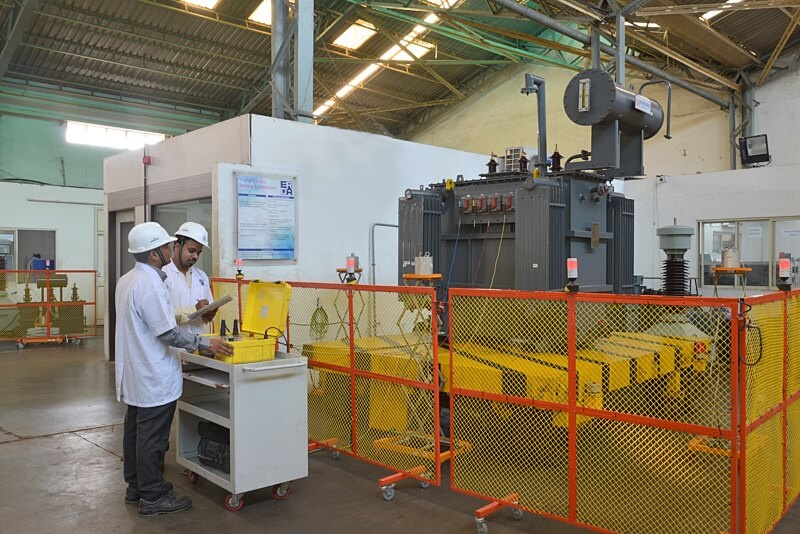 Electrical Research and Development Association
01
Infrastructure
6 number parallel test bays to undertake Routine, Temperature rise and Special Test of Distribution Transformers
Facility is backed by High Voltage Impulse (1600kV, 80kJ) and Online Short Circuit laboratory (4 MVA, 33kV voltage class) to undertake requirement of dielectric and short circuit evaluation
Approved by BIS (Govt. of India) to undertake evaluation as per mandatory scheme of IS 1180:2014
Automatic test set up to test and control for the measurement of losses and temperature rise.
02
List of Tests at Distribution Transformer Laboratory
Short circuit current withstand test
Lightning impulse voltage / Switching impulse voltage test
Temperature rise test
Measurement of No Load loss and Load Loss
Separate source voltage withstand and Induced over voltage withstand test
Pressure and Oil Leakage Test (Routine & Type tests)
Measurement of Sound level, Measurement of harmonics of no load current, measurement of flux density etc.
03
Major Products evaluated at Distribution Transformer Laboratory
Distribution Transformer (up to 2.5 MVA, 33 kV voltage class)
Dry Type Transformer (up to 2.5 MVA, 33 kV voltage class)
Reactor
Compact Substation
For Enquiries Contact
Mr. Nagin Parmar