Renewable Integration of ERDA is engaged in controller development for various applications of renewable energy. This section also undertakes contract research projects of special controller, converters, IoT based sensors, e vehicle drivers, EV chargers etc. Renewable Integration is also engaged in performance evaluation and certification of components of renewable energy like solar PV, electric vehicle supply equipment and grid scale energy storage.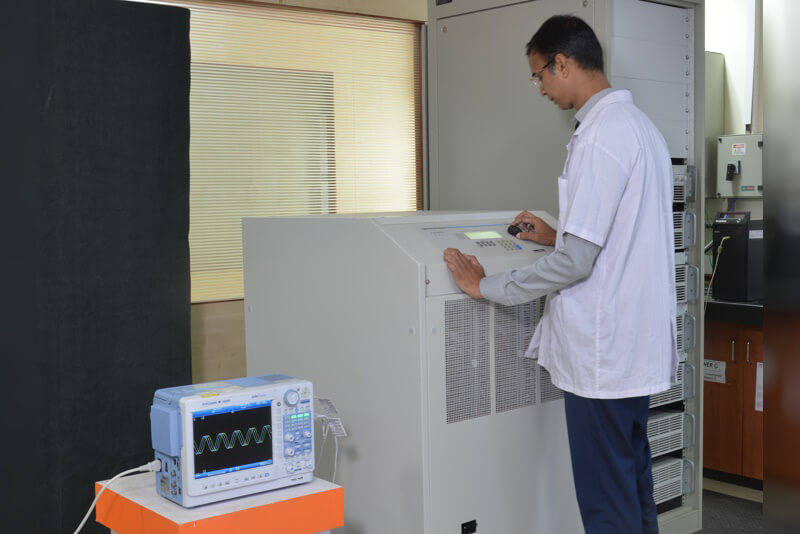 Electrical Research and Development Association
01
Associated Laboratories
Solar PV Module Laboratory
Electric Vehicle Supply Equipment
Energy Storage Test Pad
New Product Technologies – Electrical and Electronics
02
Focus Areas of Research
Solar Photovoltaic

Advanced PV panel failure detection systems
Performance degradation rates in commercial modules
Health assessment of solar PV modules
Renewable energy

Converters for Interface of solar and wind systems with Grid
Grid synchronization
Control algorithm
Electric vehicle supply equipment

AC Charger
DC fast charger
Controllers for V2G and G2V
Energy storage test pad

Integration of RE sources with energy storage
Micro grids
03
Expert Services
New Product Evaluation

Power electronics based products
Controllers for renewable energy
IoT based products / sensors
EVSE – AC / DC chargers
Energy storage devices
Solar PV panels evaluation
IS 14286 / IS 16077 / IEC 61215 for Special requirements for Design qualification and type approval testing

Maximum power determination.
Performance at STC condition.
Performance at low irradiation.
Measurement of temperature co-efficient.
Visual Inspection
Insulation test
Thermal cycling test
Humidity freeze cycle test
Damp Heat test
Measurement of temperature co-efficient
Complete type test facility for BIS CRS certification
Consultancy

Simulation and evaluation of new product technologies
Real time simulation of power electronic system
Circuit simulation, circuit schematic development & PCB layout generation
Programming and firmware development in various controllers and digital signal processors
Controller development for various power electronics based products
Controller for renewable energy
IoT for various applications
Simulation of solar energy system
Simulation of various single phase and three phase grid system
Chargers for Electric vehicle
System optimization and control
Due diligence of solar power plants
04
Infrastructure
Simulation and modelling tools based on MATLAB/Simulink
DSpace Microlab box and labview
ORCAD PSPICE for simulation
Orcad PCB designer professional software
Integrated Development Environment – CCS, Keil µvision
PV Simulator
Grid Simulator
05
Technologies Developed (Available for Sale)
Indigenous Developed DC charger is an ideal product for charging vehicles with battery voltage <100V. The charger supports high current output of upto 150 A for fast charging scenarios.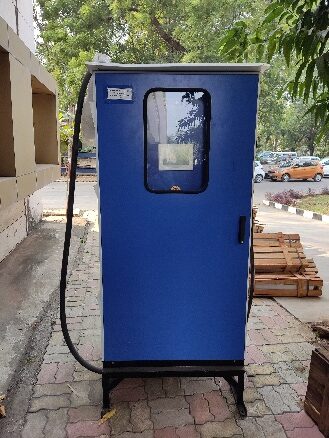 Bharat DC001 charger for EV
DC Charger Specifications
AC Input
415 Vac, (±10%), 3 phase, 5 wire system (3Ph + N + PE)
Input frequency
50 Hz (± 3 Hz)
DC output voltage
Suitable for 48 V & 72 V vehicle battery configuration
Output power
15 kW continuous
Output connector compatibility
GB/T
Efficiency
> 90%
Communication between EVSE & vehicle
CAN based as per IEC 61851-24
Charging modes
CC / CV
Emergency switch
Push button type
Indicators
Input supply, charging
Display
7" LCD touch screen
IP rating
IP 54
Cooling
Air cooled
Ambient temperature range
00C to 500C
1.2 kW for Golf cart – MPPT charging
40 kW for fast charging of Electric vehicle
720 W for Golf cart charging from microgrid
Specifications of controller for Golf cart charging from microgrid:
Input voltage range: 120 to 148 Vdc
Output voltage: 48 Vdc
Maximum Output current: 15 A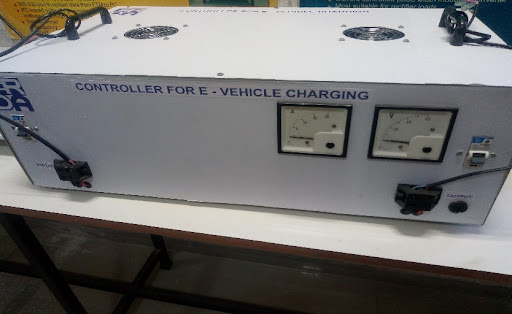 Typical Specifications of developed controller for Golf cart: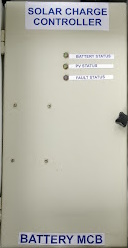 Power : 1.2 kW
Nominal Battery Voltage : 48 V
Maximum battery charging current : 20 A
Input PV voltage range : 88 to 176 V
Maximum PV input current : 16 A
PV input voltage range : 88 to 176 V
Output voltage : 48 V
Converter type : Buck converter
For Enquiries Contact
Ms. Asha Verma
For Enquiries
please contact at